I thought I'd share some recent recipes that I found via pinterest then actually made myself and let you know what I thought!
1- Minute Berry Ice Cream
1 x 500g pack of mixed frozen berries
150g fresh blueberries
3–4 tablespoons runny honey
1 x 500g tub of natural yoghurt
a few sprigs of fresh mint
optional: 4 small ice cream cornets
In advance: Put 4 small glasses in the freezer, or you can serve straight into ice cream cornets, if you prefer.
When you're all set up and ready to go, get the glasses (if using) and the frozen berries out of the freezer. Divide the fresh blueberries between the glasses or cornets. Put the honey and yoghurt and leaves from the sprigs of mint into the food processor and whiz, then add the frozen berries and whiz again until combined. Spoon the frozen yoghurt over the fresh berries and serve. Yum.
My review:
Awesome! I nixed the mint because I didn't have any and used greek yogurt as my base and didn't find it lacking at all. It was super fresh tasting perfectly sweet. And it truly did only take a minute. Although, if you want it to have more of an ice cream consistency, you need to let it freeze awhile.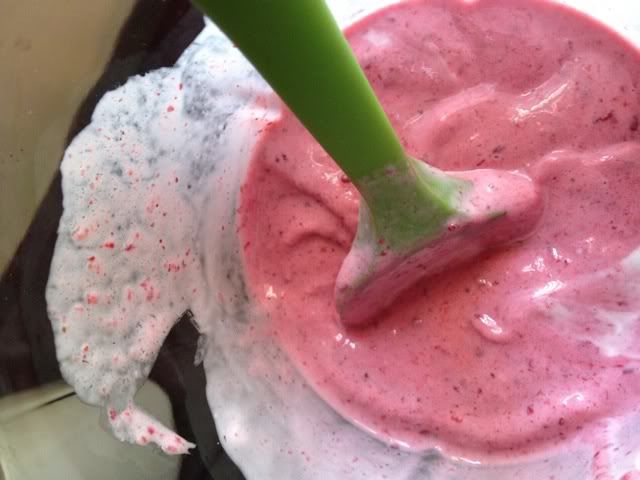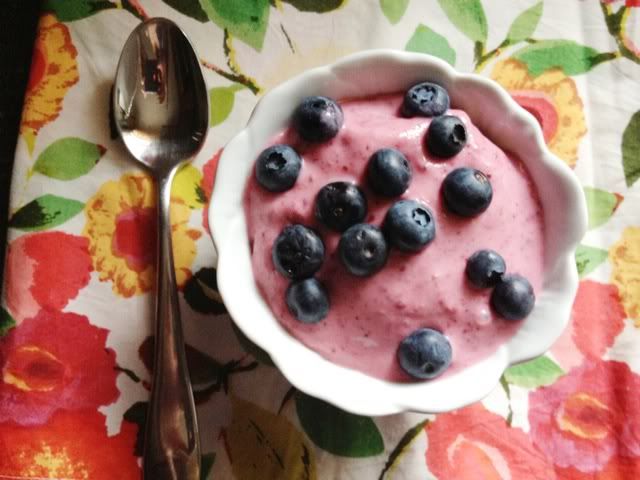 - Cinnamon Toast Crunch Cereal
"A banana is sliced down the middle and stuffed to the max with marshmallows and chocolate chips.
Wrap it in foil and throw it on a grill for a couple of minutes to get a warm, decadent banana melt. A handful of crushed Cinnamon Toast Crunch cereal on top is all you need to add the graham cracker element of your s'more and the perfect amount of crunch to compliment the gooeyness of everything else.
You're gonna need a spoon for this one … that's the only way to make sure you get every last morsel of chocolate and melted marshmallow. And it wouldn't be a s'more if you didn't get messy. If you can eat this melt using less than five napkins, you are my hero.
No grill?
No worries. Just throw the foil wrapped banana straight on the cooking rack in a 400-degree oven for 5-6 minutes to get the same delicious result. These are also a classic campfire fave! Just add them to your fire for 3-5 minutes and remove carefully with tongs when the chocolate and marshmallow are melted."
My review: A quick and yummy dessert made from stuff I already had on hand! I made mine in the oven and it worked just fine. You'll definitely want to eat it with a spoon, but since it's made in tin foil, that's the only thing you have to clean up! Next time, I would use Golden Grahams instead of Cinnamon Toast Crunch cereal to give it a more authentic s'more taste.
(These got eaten before I could snap a photo!)
Ingredients:
Cake
6 tablespoons unsalted butter, melted
1 1/2 cups granulated sugar
2 large eggs
1 (15 oz.) can pumpkin
1/4 cup water
2 cups all-purpose flour
2 teaspoons ground cinnamon
1/2 teaspoon ground cloves
1/2 teaspoon ground ginger
1/2 teaspoon ground nutmeg
1 teaspoon vanilla
1 teaspoon baking soda
1/2 teaspoon baking powder
1/4 teaspoon salt

Cream Cheese Filling
8 ounces cream cheese, softened
1/4 cup granulated sugar
1/2 teaspoon vanilla
1 large egg
"Preheat oven to 350 degrees. Spray a 9x13 pan with non-stick cooking spray. In a bowl, with an electric mixer on medium speed, beat butter and 1 1/2 cups sugar until smooth. Beat in 2 eggs, pumpkin, 1 teaspoon of vanilla and water until well blended. In a separate bowl, mix flour, cinnamon, cloves, ginger, nutmeg, baking soda, baking powder, and salt; add the dry ingredients to the pumpkin/butter mixture and combine until well blended. Spread about 2/3 of the batter evenly into the prepared pan.

In a bowl, with an electric mixer on medium speed, beat cream cheese, 1 egg, 1/4 cup sugar, and ½ teaspoon of vanilla until smooth. Spread cream cheese mixture evenly over the pumpkin batter. Dollop the remaining pumpkin batter over the cream cheese batter and spread out as evenly as possible. Use a table knife to swirl together the cream cheese and top layer of pumpkin batter. Bake for 30-35 minutes, or until the center of the pumpkin batter springs back when touched. Cool completely in pan, then cut into bars."
My review: If you love pumpkin roll but don't like all the work that goes into it - this is definitely your jam. I made a total mess of my kitchen making this dessert but it was well worth it. I'm a huge sucker for pumpkin anything and these bars were so delicious. They also look really pretty with the swirl pattern you make in them. I couldn't wait to eat them so I tried them warm out of the oven, but I recommend enjoying them after they've been in the fridge a few hours.
Have I convinced you to try any of these for yourself?!